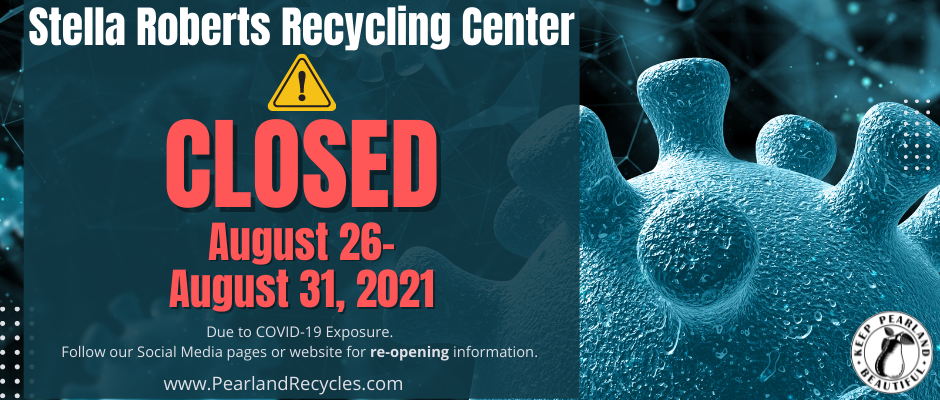 ---
Dear KPB Supporter,
Keep Pearland Beautiful (KPB) is temporarily closing the Stella Roberts Recycling Center (SRRC) located at 5800 Magnolia Parkway, Pearland, TX 77584 beginning August 26, 2021 following consecutive COVID-19 exposures associated with breakthrough positive test results.
To ensure the safety of our visitors and staff, I, under the direction of the organization's consulting physician, ordered the closure of the SRRC following a positive diagnosis of an employee on Monday, August 16, 2021. The SRRC re-opened to the public on Tuesday, August 24, 2021, following negative test results from all employees on August 21, 2021. Following another exposure incident related to a COVID-19 diagnosis on August 25, 2021, KPB has ordered a second closure.
The estimated re-opening date of the recycling center is September 1, 2021. This re-opening date is, once again, contingent upon all employees testing negative for COVID-19 and subsequent clearance from KPB's consulting physician. Upon re-opening, KPB will require appointments and adherence to COVID-19 mitigation protocol to drop off any material at the SRRC until further notice. Appointments may be made by visiting the organization's website, www.PearlandRecycles.com, or by calling (281) 489-2795 during normal operating hours.
We are wholly committed to empowering our community to recycle whenever possible. Just as we're committed to caring for the health of our environment, we are committed to caring for the health of our visitors and staff members! Follow our Social Media pages or website for re-opening information. Thank you for your understanding and please keep your loved ones and yourself safe by continuing to practice social distancing and wear PPE whenever appropriate.
Sincerely,
Adrian Hernandez
Executive Director