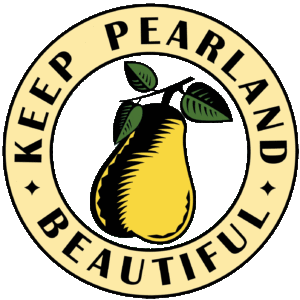 Our Mission
To empower Pearland citizens to take responsibility for their environment.
Our Vision
Pearland will be the cleanest and most beautiful city in Texas.
Keep Pearland Beautiful first started out as Clean Pearland in August 1982 when it was founded and certified as an affiliate of Keep America Beautiful. It was then chartered by the State of Texas as a non-profit corporation and recognized by the US Internal Revenue Service as a 501 (c) (3) non-profit organization in the fall of 1982.
Our Early Years as Clean Pearland[ps2id id='kpb-hist'/]
Organized and ran the first recycling program in Pearland in the Lions Club parking lot in the early 80s.
Organized a committee to promote and raise funds for the construction of hike and bike trails in Pearland in the early 1980s and hosted a number of fundraisers including spaghetti suppers and Pearland Night at the Astros.
Initiated an Adopt-A-Spot program for cleaning roads in Pearland in the early 80s, shortly after the Texas Department of Transportation began its "Don't Mess With Texas" and Adopt-A-Highway program.
Organized KIPPERS (Kids In Pearland Preserving the Environment through Responsible Service) group at Jamison Middle School, which won a national award from KAB in 1988. There area now KIPPERS organizations at all three Pearland middle schools. The Jamison and Sablatura KIPPERS have won a number of state and national awards over the years. Students from the Sablatura KIPPERS have traveled to Washington D.C. twice (2001 and 2002) to receive first place awards from Keep America Beautiful.
Eventually moved the recycling center to city property at 2012 Old Alvin Road where it was open two days a week, taking a limited number of items.
City outsourced garbage pickup to Best Waste (later sold to Waste Management) in October, 1991. At the urging of Clean Pearland, curbside recycling was added to the garbage pickup service and the city contracted with Clean Pearland to coordinate and promote the program.
In 1993 sponsored the First Annual Tour de Lites Family Bike Ride through the Green Tee Subdivision to view the Christmas lights. This event has become a holiday tradition in Pearland, with the 12th Annual Tour being held in 2005.
Clean Pearland held its first annual Household Hazardous Materials Collection Day in April of 1997.
More Recently as Keep Pearland Beautiful
Clean Pearland became Keep Pearland Beautiful in late 1997 to more closely identify with the state and national organization.
Contributed $19,000 from the Hike and Bike Trail Fund as matching funds for a state grant to build a trail along Mary's Creek and around the front area of Independence Park.
Paid for the concept plan and spearheaded the campaign for the construction of the gazebo adjacent to City Hall.
Installed irrigation and planted trees on the esplanade on Pearland Parkway South in 1999.
Added the pickup of green waste for composting to the city's solid waste services in October, 2002.
Received many state and national awards, including two first place awards from Keep America Beautiful and four Governor's Community Achievement Awards from Keep Texas Beautiful. Three of the Governor's Awards brought Texas Department of Transportation landscaping grants to the city. The pear trees along FM 518, three of the four city entrance signs and the landscaping and monuments at the intersection of FM 518 and Pearland Parkway were all installed utilizing this funding.
Formed a committee made up of board members, city staff and elected officials in 2000 to look into the feasibility of bringing a full-service recycling center to Pearland. This committee visited recycling centers throughout the Houston area.
In 2002 the city approved the concept plan for the Pearland Recycling Center to be located at the Southwest Environmental Center and received a grant from the Houston-Galveston Area Council for the construction of the center.
In April of 2004 a dedication ceremony was held at the new center in and June 2004 the Pearland Recycling Center officially opened for business.
Household hazardous materials and electronic waste collections were added to the services offered by the Pearland Recycling Center in February of 2005.
In January of 2005 Keep Pearland Beautiful launched a Cigarette Litter Awareness Campaign with the slogan "Don't Leave Your Butts Behind" and the goal of making everyone in Pearland aware that cigarette butts are litter, too.
In June of 2005 KPB held the first of what would become annual Teacher Training Workshops on Keep America Beautiful's Waste in Place Curriculum. Solid waste grants were obtained to fun the initial workshops. They have now become part of KPB's annual budget. A total of 33 teachers were trained in two workshops in Jun of 2007.
Keep Pearland Beautiful worked with the Pearland Parks Department with a goal of establishing an Environmental Education Center at the Southwest Environmental Center. In May of 2007 funding for the Center was included in a parks bond package that was approved by the voters. The Center will be a "Green" building and will include offices for KPB as well as classrooms and meeting space.
In December 2007, Keep Pearland Beautiful contributed $20,000 to the City of Pearland Hike & Bike Trail Fund for the first phase of the Trail connectivity Plan.
In May 2009, KPB awarded the first Joe Miller Environmental Scholarships to two seniors from Pearland High School. Joe Miller was an avid environmentalist with a passion for helping Keep Pearland Beautiful.
In June of 2011, KPB received for the sixth time, a first place Governor's Community Achievement Award. The City of Pearland will receive $270,000 in landscaping from TxDot as a result of this award.
In December of 2011, KPB won a first place Affiliate Award (population category 50,001 to 200,000) from Keep America Beautiful for the 4th time since 1982.
Board of Directors[ps2id id='kpb-board'/]
Board Members
                                                              President, Natasha Charles, Self Employed
President Elect Samuel Gieseke, Educator
                            Treasurer Mark Andersen, Andersen Accounting & Advisory
                                         Secretary Brian Wilmer, Discovery Green Conservancy
Immediate Past-President Michelle Croasdaile, BHP
Charles McMurrey, Retired
Dr. Helen Shih, Self-Employed
Buck Stevens, Brazoria County Pct 3 Constable
Mark Smith, Mark Smith Law PLC
Chris Tulloch, Chris Tulloch State Farm
Term Expiration / #
Oct 2022 (1)
Oct 2023 (1)
Oct 2022 (2)
Oct 2023 (1)
Oct 2022 (2)
Oct 2022 (1)
Oct 2022 (2)
Oct 2022 (1)
Oct 2022 (3)
Oct 2021 (1)
Laura Austin, Texas Advantage Community Bank
Helen Beckman, Former Pearland City Council
Anna Bryant, H-E-B
Linda Cowles
Jai Daggett,
Delores Fenwick
Henry Fuertes
Brandy Groth
Sheila McCoy
Billie Jo Moffett
Andrew Pikoff, The Pikoff Team Keller Williams
Tom Reid, Mayor of Pearland
Erin Steele, Steele Foundation
Chandrakanth Vemula, Internal Medicine Associates of Houston'
Denise Whaley, Internal Revenue Service
Marjorie Wilcoxson
Traci Williams, Ardent Hardcastle Real Estate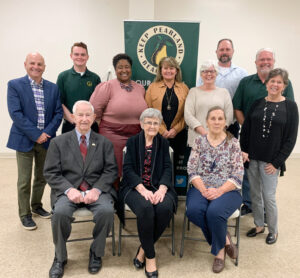 Are you interested in serving as a KPB Board Member? Board Members must be a current KPB Household or Business Member and must first serve as a member of the KPB Advisory Board. If interested, please click HERE to access our Advisory Board Application.
KPB Staff[ps2id id='kpb-staff'/]
Adrian
Hernandez
Executive Director
Lenora Tollefson
Director of Operations
Henry Donley– Recycling Attendant
Joe Escobedo– Community Service Supervisor
Joseph Galarza- Recycling Attendant
Christina Greenamyre –Facility & Material Manager
Jacob Guy- Recycling Attendant
Cameron Schwarzbach– Recycling Attendant
Paul Stanko- Recycling Attendant
Emily Young- Office Administrator