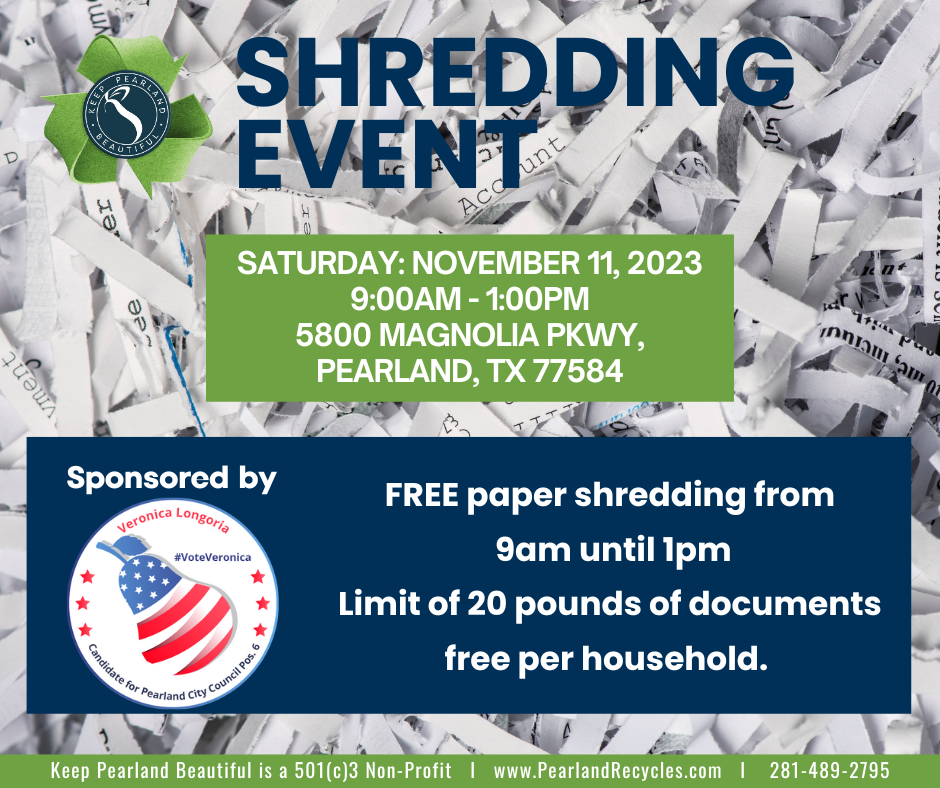 November 2023 Paper Shredding Event
We are excited to bring back paper shredding! Although we are not able to provide a daily service, we are able to provide a monthly paper shredding event.
The new program will begin in October 2023 and run until September 2024.
Paper shredding will be done on-site behind the Stella Roberts Recycling Center, drive thru the gate and meet staff under the tent.
Paper Shredding Fees:
Free paper shredding from 9am until 1pm, Sponsored by Veronica Longoria for Pearland City Council. Limit of 20 pounds of documents free per household. View Paper Shredding Fees for businesses.
Non-KPB Members – $5.00 Min. or $0.30/lb (Whichever is higher)
Non-KPB Business Members – $0.55/lb
Not a member? Join Here!
If you have any questions feel free to call our office: 281-489-2795.
Additional Dates: 
November 11, 2023
December 9, 2023
January 13, 2024
February 10, 2024
March 16, 2024
May 11, 2024
June 8, 2024
July 13, 2024
August 10, 2024
September 14, 2024