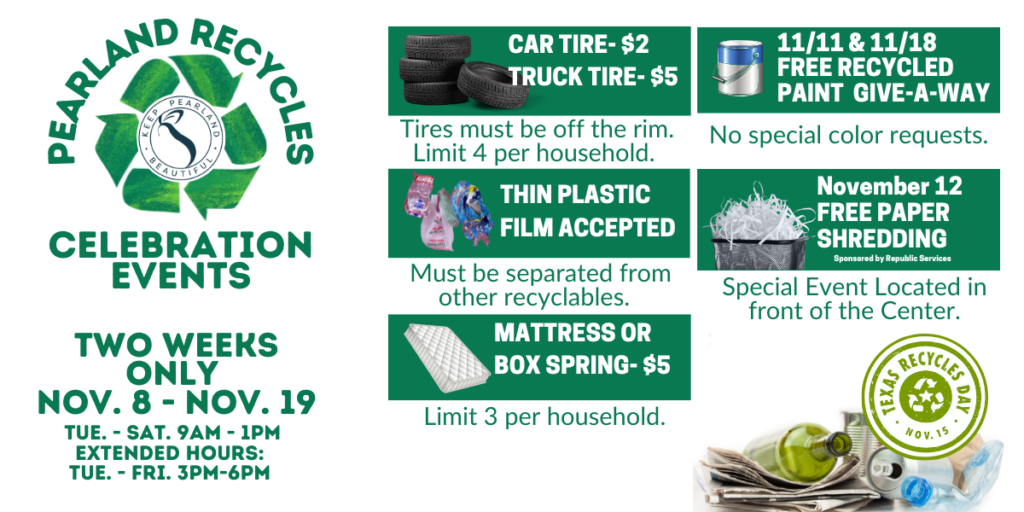 America Recycles Day, a program of Keep America Beautiful, is the only nationally recognized day dedicated to promoting and celebrating recycling in the United States. Every year on or around November 15 (America Recycles Day), millions turn out to thousands of local events held throughout the country to celebrate and learn more about their recycling programs. Since 1997, Pearland has participated in America Recycles Day. It is one day push by Keep Pearland Beautiful to educate and motivate people to recycle. One day to make recycling bigger and better 365 days a year.
Celebrate Pearland Recycles Day with Keep Pearland Beautiful for TWO weeks:
Date: November 8, 2022 through November 19, 2022
Location: Stella Roberts Recycling Center (5800 Magnolia Parkway)
The Recycling Center will be accepting tires, mattresses and plastic film from residents, No Businesses or Municipalities please!
CAR TIRE– $2/each & TRUCK TIRE– $5/each; limit 4 tires per household; Tires on rims, foam filled, or solid tires will not be accepted.
Up to 3 mattresses ($5/each)- Box Springs included. KPB will collect plastic bags from November 8, 2022 through November 19, 2022.
Plastic film such as: plastic grocery bags, bread bags, vegetable bags, drycleaner bags, newspaper bags, ect. Must be separated from recycling. Not acceptable for curbside recycling.
Textile Recycling: Green City Recycler located in front of the center 24/7.

Special Services:
November 11th and 18th, free recycled paint will be given away, from 9am – 1pm, see front office. No special color requests will be accommodated, latex paint and aerosol cans.
November 12th, free paper shredding sponsored by Republic Services.
Schedule a Stella Roberts Recycling Center Tour for your family, organization, business or school to learn more about recycling in Pearland.