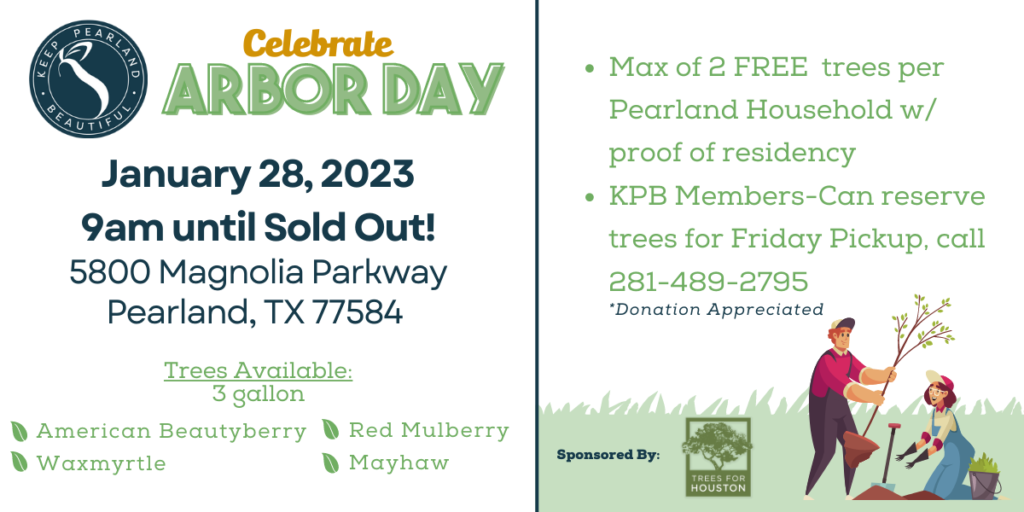 Keep Pearland Beautiful will host Arbor Day on January 28, 2023, passing out two 3 gallon trees per household at the Stella Roberts Recycling Center (5800 Magnolia Pkwy).  At this event KPB will be giving away 2 trees, until supplies run out. 252 trees will be distributed, including: Red Mulberry, Mayhaw, American Beautyberry and Wax Myrtle. Tree give-away will begin at 9:00am, a suggested donation of $10 per tree is appreciated. Residents are recommended proper trees based on their needs and given specific planting instructions.
KPB Members are able to reserve their trees for early pickup. Email will be sent with link to reserve 2 trees or call 281-489-2795 or email ltollefson@mykpb.org.
In addition to the historical significance of trees there are many environmental and modern day benefits.  Pearland is proud to be recognized as a "Tree City USA" community.  We benefit from our trees in multiple ways.  First, people are attracted to a community with beautiful landscaping that includes trees for shade. In city urban spaces and your own neighborhood, a thriving tree canopy is important to keeping temperatures down in the summer.  Trees provide shelter and food for our diverse bird population.  Planting trees around your home increases the energy efficiency of your air conditioner in the summer months.  And finally, everyone benefits psychologically from having green spaces with trees.
Help us create a thriving tree canopy by planting proper trees in the proper place at your residence or volunteer with Keep Pearland Beautiful.  For more information about choosing and planting trees visit www.arborday.org and refer to 'Right Tree, Right Place'.  To find out more information about how you can help Keep Pearland Beautiful, contact us at (281) 489-2795 or visit www.mykpb.org.