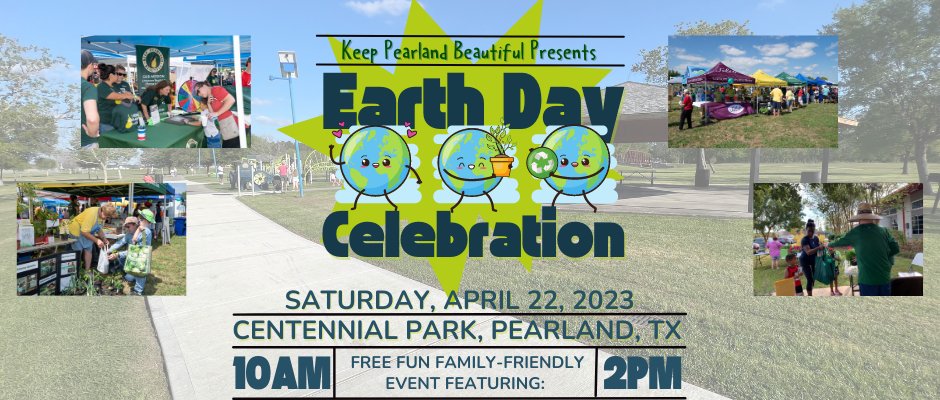 Pearland Earth Day Celebration has a new location, Pavilions at Centennial Park (3219 McLean Rd, Pearland, TX 77584) on Saturday, April 22 from 10 AM to 2 PM. This free family event brings the Pearland community together to celebrate our planet, inspire positive environmental change, and support sustainable small businesses. 
Alpha Kappa Alpha Sorority, Inc.- Psi Mu Omega Chapter
Arya Kordia Gold Award Project
Bay Area Council on Drugs and Alcohol: Tobacco Prevention Task Force
Bluebonnet Circle at the Yardwise
Brazoria County Master Gardeners
CenterPoint Energy
City of Pearland Engineering Department & Environmental Service (Including Pre-Treatment)
City of Pearland Home Repair Program
Cultivated Canine Dog Training
Curbside Skate Company, LLC
Delores Fenwick Nature Center
Disc Golf Club
Gear Monkey Bike Repair
Houston-Galveston Area Council-Commute Solutions
Keep Pearland Beautiful
KIPPERS Plant Walk
Lone Star Snakes
Marilyn & Erica Cyrus Keller Williams
Metro/Star Vanpool Program
Moody Gardens
Old Pearland Farmers Market
Pearland Bicycles
Pearland Community Garden
Pearland Urban Forester
Premier Chiropractic
Resort Vacations Inc.
Stella Roberts Recycling Center
Tinkergarten
Wild Bloom Honey
Youth Environmental Council
10-11am:  Brianna Nichelle, aka CalmYogiBae- 30 Minute Yoga Demonstration and Yoga & Holistic Wellness conversation
11-12pm: Vegetable Gardening and Plant Propagation – Ruth and August Aimone; Growing Fruit and Citrus Trees- Nick Felsted; Texas Native and Adaptive Perennials – JoAnne Knodel; Improving Your Garden's Health – Paula Beene
12-1pm: Talk trash with the Stella Roberts Recycling Staff. What are the rules and where does my recycling go? Ask the experts to level up your recycling!
1pm-2pm: TBA
SIERRA SHRED will be onsite from 10am until 2pm accepting paper for shredding! All shredding is done onsite at the event. Stay in your vehicles, and we grab the bags/boxes and shred them. There is a video monitor on the truck so you can watch if you so desire.
Materials Acceptable for Shredding
Paper Only Please!
Banking Info
Employment Info
Loan Info
Office Paper
Canceled Checks
Financial Statements
Mail Payroll Info
Copies of Checks
Folders
Magazines
Social Security Info
Credit Card Statements
Insurance Info
Medical Records
Education Records
Junk Mail
Obsolete Records
No need to remove paper clips, staples, file folders, or rubber bands…we can shred those!
What NOT to Shred – NO Trash Please!
Ammunition Chemicals/Cleaners Metal Wood
Batteries Food/Containers Plastic X-Ray Film
Binders Lighters/Match Books Phones/Cords/Cables
Cell Phones Medical Waste Trash
***NO TRASH, PLEASE***
No cost, shredding truck sponsored by:

Soccer & Baseball Darts
Mini Golf Challenge
Basketball Shootout
Lawn Scrabble
Large Jinga
Cornhole
Playground Imagination Soft Play
Chalk
Bubbles