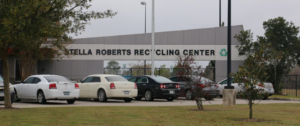 General Statement of Job:
The Recycling Attendant provides recycling assistance to Stella Roberts Recycling Center (SRRC)visitors by receiving and sorting recyclables and hazardous waste, providing on-site recycling education, maintaining the recycling center, and acting as a front-line advocate for Keep Pearland Beautiful.
Specific Duties and Responsibilities:
The list of essential functions, as outlined herein, is intended to be representative of the tasks performed within this classification. It is not necessarily descriptive of any one position in the class. The omission of an essential function does not preclude management from assigning duties not listedherein if such functions are a logical assignment to the position.
Essential Functions:
Meet and greet SRRC visitors as they arrive at the facility.
Collect, sort, and process recycling commodities and hazardous materials.
Operate machinery such as the paper shredder, baler, and compactor.
Operate forklift to empty tilt hoppers where recyclables are collected.
Clean and organize the recycling center and maintain the facility's overall image.
Receive and input visitor data into digital logs for tracking certain commodities and materials and processing payments as specified by management.
Assist in maintaining a clean, safe working environment.
Contribute to team effort by performing other related duties as assigned by management.
Education, Experience, and Licenses:
High school diploma or equivalent preferred. Machinery, equipment, and hazmat handling certifications and/or licenses preferred.
Knowledge, Skills, and Abilities:
Ability to add, subtract, multiply, and divide in all units of measure, using whole numbers, common fractions, and decimals.
Ability to solve practical problems and deal with a variety of concrete variables in situations where only limited standardization exists.
Ability to interpret a variety of instructions furnished in written, oral, diagram, or schedule form.
Ability to effectively communicate with all levels of employees and the general public.
Ability to present and maintain a positive image of Keep Pearland Beautiful at all times.
Ability to confidently model positive recycling behaviors and recognize situations where opportunities to educate visitors may arise or exist within the SRRC.
Ability to fulfill requests or otherwise provide services, accurate information or assistance in a courteous and timely manner.
Ability to actively listen and demonstrate competence and interest to the general public, citizens, and co-workers.
Basic knowledge of general office equipment and procedures such as data entry, payment processing, time keeping, and email or other means of electronic communication.
Knowledge of English grammar, punctuation, spelling, and good numerical skills.
Ability to operate a variety of office equipment, including but not limited to: PC, calculator, telephone, and copier.
Ability to operate forklift, compactor, baler, bulb crusher, glass crusher, and shredder.
Knowledge of recycling procedures and generally regarded best practices with regard to environmental stewardship.
Physical Demands: The physical demands described here are representative of those that must be met by an employee to successfully perform the essential functions of this job.
Reasonable accommodations may be made to enable individuals with disabilities to perform the essential functions.
While performing the duties of this Job, the employee is regularly required to use hands to handle or feel.
The employee must be able to hear. The employee must be able to read, write, and speak English.
The employee is frequently required to be on their feet for extended periods of time; walk; sit; reach above their head with hands and arms and stoop, kneel, crouch, or crawl.
The employee is occasionally required to climb or balance.
The employee must occasionally lift be able to lift and/or move up to 75 pounds throughout the work shift.
Specific vision abilities required by this job include close vision, distance vision, color vision, peripheral vision, depth perception and ability to adjust focus.
Work Environment:
The work environment characteristics described here are representative of those an employee encounters while performing the essential functions of this job. Reasonable accommodations may be made to enable individuals with disabilities to perform the essential functions.
The noise level in the work environment is noisy. Ear protection is required when performing certain tasks. The environment may expose the employee to hazardous, heavy, and/or sharp materials.
Work is performed in an outside environment where temperatures may range from below 40°F to above 90°F during certain times of the year.