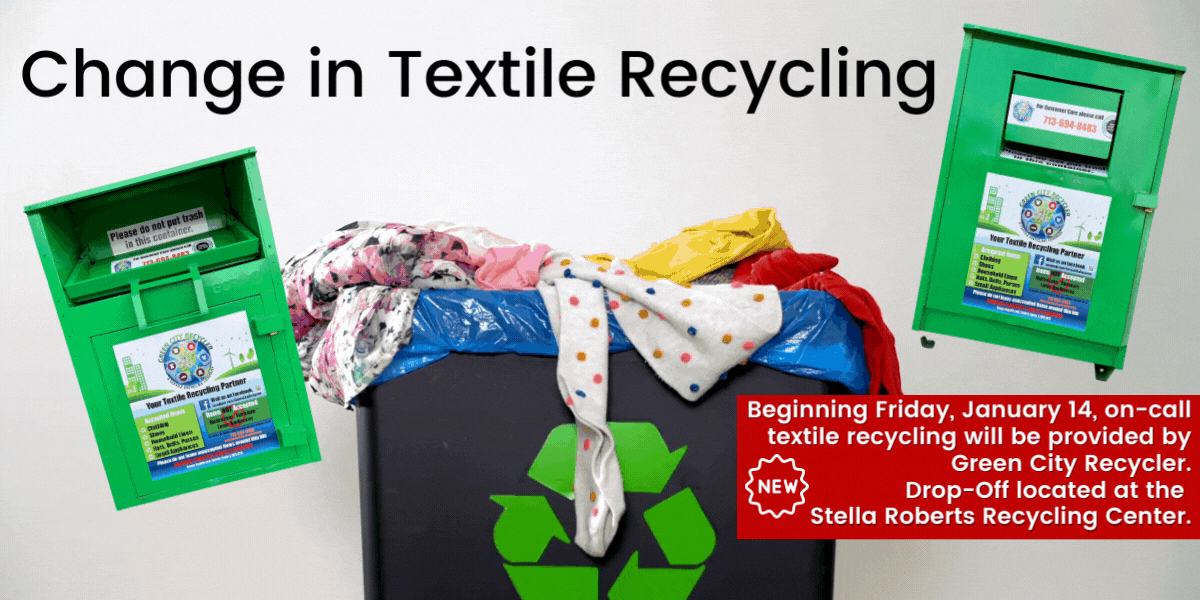 Website_2022 new textile recycling2022
Donate First, Recycle Second
This program will target the textiles going into landfills, not items being donated to charities, churches, non-profits and other organizations. Keep Pearland Beautiful encourages residents to donate items to a local charitable organization. 
The Environmental Protection Agency (EPA) estimates that textile waste makes up 6% of all the material going into the landfill. That equals an estimated 26 million pounds of textile waste being thrown away every year. However, about 95% of it can be reused or recycled. 

What can be recycled?
Bedding
Clothing 
Coats & Jackets
Curtains/Draperies 
Fashion accessories
Halloween Costumes
Handbags & Purses 
Hats & Gloves 
Linens 
Pet Beds & Clothing
Pillows 
Shoes, Sandals & Slippers 
Sleeping Bags 
Stuffed Animals
Preparing for a pickup
Textiles must be placed in a customer-owned container (bag or box).
Set your textiles out on your front porch by 7 a.m. on your collection day, but no earlier than 6 p.m. the evening before.
Do not place textiles in your city issued recycle cart.
Ready to schedule a pickup?
Call Green City Recycler at 832.989.2745 
FREQUENTLY ASKED QUESTIONS: