Click event title to expand for description and sponsorship sign up link (if available).
KPB will give away 300 trees to community members in this drive-thru event. Help support this effort by sponsoring 1 of 3 tree varieties that will be offered. Your business or organization will be featured on a care instructions tag which will be affixed to every tree. Bring your employees to volunteer and show off your brand by wearing coordinated outfits. Let's make Pearland greener together!
There is a limit of 3 sponsorships available for this event at $500 each. Includes logo on each care tag, social media recognition, and a feature in our monthly newsletter which goes out to 2,500 Pearland area residents and businesses.
CLICK HERE to sponsor.

The Winter Litter Cleanup is one of four litter prevention events in conjunction with our Adopt-A-Spot Groups. This February 5, 2022 we will have 30-75 volunteers outside of of our Adopt-A-Spot groups and pitch in to keep Pearland litter free! 
Cigarette litter hurts Pearland in numerous ways. To help educate the public Keep Pearland Beautiful is hosting its annual Cigarette Litter Awareness Day in February. At noon volunteers will meet at the Stella Roberts Recycling Center (5800 Magnolia St.) to eat lunch and receive a safety briefing. Volunteers will spend the afternoon picking up cigarette litter along Pearland street intersections. Last year volunteers picked up 7,710 cigarette butts.

Time to get dirty and Keep Texas Waterways Clean! Last year, 58 volunteers picked up over 308 lbs of trash and 82 lbs of recyclables! This year we know we can do our part to make this impact even greater! Let's contribute to making Mary's Creek Clean for our wildlife and neighbors!

Things to look forward to this spring: 1.) Blubonnets 2.) Great weather 3.) The Don't mess with Texas Trash-Off! Last year, 163 volunteers picked up more than 1,300 pounds of litter from nearly 23 miles of Pearland roadway! We are proud to host our own Trash-Off April and contribute to making our state clean and beautiful.
The Texas Department of Transportation is responsible for maintaining 80,000 miles of road and for supporting aviation, rail, and public transportation across the state. TxDOT and its 12,000 employees are committed to working with others to provide safe and reliable transportation solutions for Texas by maintaining a safe system, addressing congestion, connecting Texas communities, and being a Best in Class state agency. Don't mess with Texas® is a registered trademark owned by the Texas Department of Transportation. For more information visit www.dontmesswithtexas.org.
Keep Pearland Beautiful will host Pearland's 26th annual Earth Day Celebration, an outreach program designed to educate the community about their environmental responsibility. The annual event provides families with the opportunity to participate in educational activities teaching them about recycling, conservation, and environmental citizenship.
Keep Pearland Beautiful is hosting a Speakeasy Party featuring the 15th annual Pocket Pear Texas Hold 'em Poker Tournament in June. Join us at the speakeasy for dinner, casino games, dancing, door prizes, and raffle drawings at the end of the night. Play in the Texas Hold 'em poker tournament and compete to win the coveted Pocket Pear Trophy.
The annual Pocket Pear fundraiser benefits the Joe Miller Environmental Scholarship Fund and KPB Programs. The Environmental Scholarship is awarded to Pearland area high school seniors who have demonstrated good stewardship of the environment and are pursuing higher education. An active community member for over 20 years, Joe Miller devoted his free time to volunteering with groups such as Keep Pearland Beautiful and the Boy Scouts of America. For fun, he was an avid poker player, going "all in" with the Lakes of Highland Glen Poker Club. KPB established this scholarship fund in 2008 in his memory.
Since 2008, KPB has given over $110,000 in scholarship to Pearland students!3

KPB, along with other organizations in Keep America Beautiful's national network of community-based affiliates, plans volunteer events and education programs that help to remove litter and debris and plant trees, flowers and community gardens.
Want to make an impact in your community? 
We are so excited to have our annual Plant Thyme Fall Luncheon and Plant Sale in October. This annual tradition is such an integral part of our community and brings together hundreds of businesses and individuals who are committed to making our community Clean, Green, and Beautiful! The Fundraiser includes a guest speaker, plant sale, lunch, silent auction, raffle and a fun time!
Please review our Sponsorship options for this year's event and secure your spot today to ensure that we can share your sponsorship with our membership as soon as possible and bring you maximum exposure of your support and efforts!  KPB currently serves the Pearland community through litter prevention, waste reduction, and beautification programs. From organizing and running the first recycling program, to the development of hike and bike trails, initiating and
maintaining the Adopt-A-Spot program, to developing KIPPERS (Kids in Pearland Preserving the Environment through Responsible Service) in local
middle schools and assuming operations of the Stella Roberts Recycling
Center, KPB continues to make a difference in our community.
Native and Adaptive, Vegetable and Herb Plant Sale hosted at the Stella Roberts Recycling Center. 
Ready? Set. Cleanup! Are you ready? Keep Texas Beautiful's Fall Sweep Litter Prevention Program is held annually in November, to support the efforts of KTB Affiliates. In Pearland, we keep it classy not trashy, and we want it to stay that way! Last year, 382 volunteers helped pick up 348 pounds of trash! We are proud to host our own Fall Sweep and contribute to making our state clean and beautiful. 
Keep Pearland Beautiful will be hosting an Annual Meeting and Awards Dinner in November. The Annual Meeting, including the annual report is a great chance for members of KPB to join in a celebration of all that KPB has accomplished throughout the year. The Environmental Awards program is a great way to recognize individuals, organizations and businesses in Pearland that have made a significant contribution to conserving and improving the environment in Pearland in the past year.
Celebrate Pearland Recycles Week with Keep Pearland Beautiful from November 1, 2022 through November 19, 2022 at the Stella Roberts Recycling Center, located at 5800 Magnolia Parkway. Volunteers will be on hand to give away special gifts and collect recyclables.
From November 1, 2022 through November 19, 2022 the Recycling Center will be accepting tires from residents, No Businesses or Municipalities please! Tires on rims, foam filled, or solid tires will not be accepted. Limit 4 tires per household; additional tires will be $5.00 each. KPB will collect plastic bags from November 1, 2022 through November 19, 2022. Also on the 4th, 11th and 18th, free recycled paint will be given away. No special color requests will be accommodated.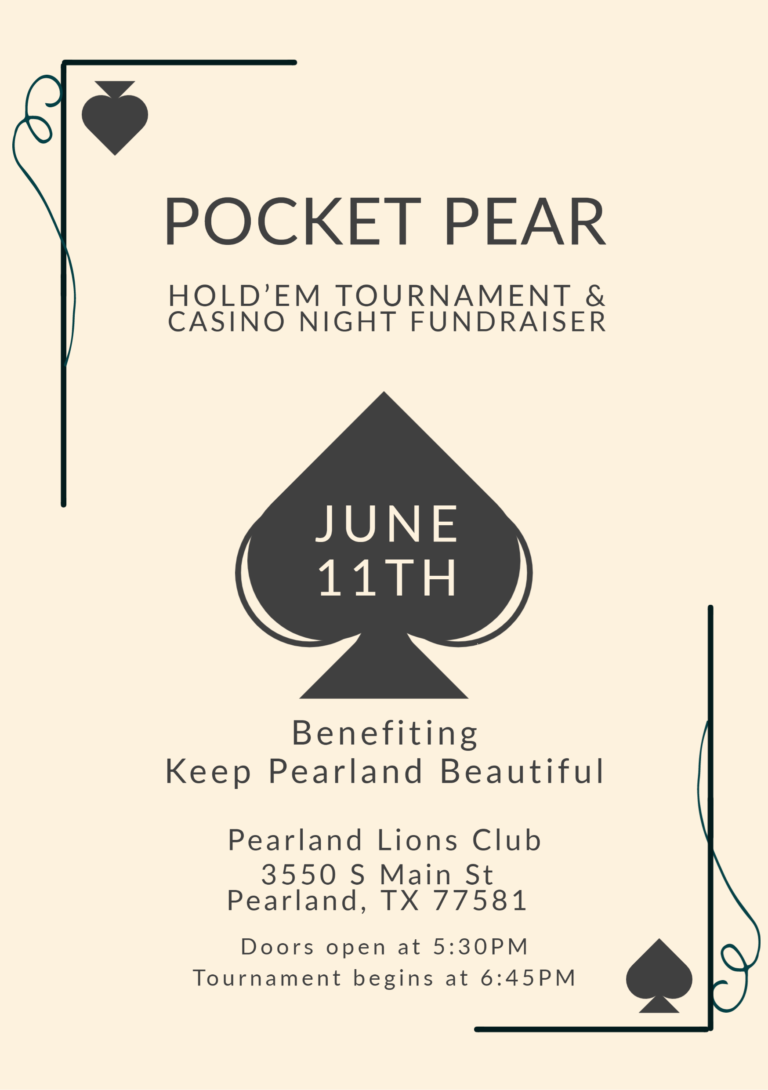 JUNE 11, 2022 – POCKET PEAR HOLD'EM TOURNAMENT
We are excited to announce that our 40th Anniversary Pocket Pear fundraiser is right around the corner! To celebrate, we're returning to the basics and scaling down our event to focus on the impact that your participation makes possible in our community. Join us for our annual Pocket Pear Texas Hold'em Tournament & Casino Night on Saturday, June 11th at the Pearland Lions Club – where it all began!