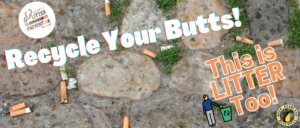 In the past decade, cigarette smoking in America has decreased by 28%, yet cigarette butts remain the most littered item–in the U.S. and across the globe.¹ Dropping cigarette butts to the ground, putting them in planters, and disposing of them in waterways is littering. The overall littering rate for cigarette butts is 65%, and tobacco products comprise 38% of all U.S. roadway litter.
---
---
Dropping cigarette butts, matches, lighters, and packaging to the ground is littering!
Why do smokers litter?
Mostly, it's limited ash receptacles and a lack of awareness about the environmental impact. New ordinances are also moving more smokers outdoors. In Pearland, we have a smoking ban, but there seems to be some confusion about where a business can place an ash receptacle.
Here's why cigarette litter matters: it's unsightly, costly to clean up, and harmful to waterways and wildlife.
---
---
---
---
Keep Pearland Beautiful is now recycling cigarette butts via three public drop-off receptacles in the City of Pearland.
Stella Roberts Recycling Center near the front Door
Justice of Peace Office on 2436 S. Grand Blvd, Pearland, TX 77581
Pearland Community Center on 3523 Liberty Dr, Pearland, TX 77581
     Collect your butts and drop them off!