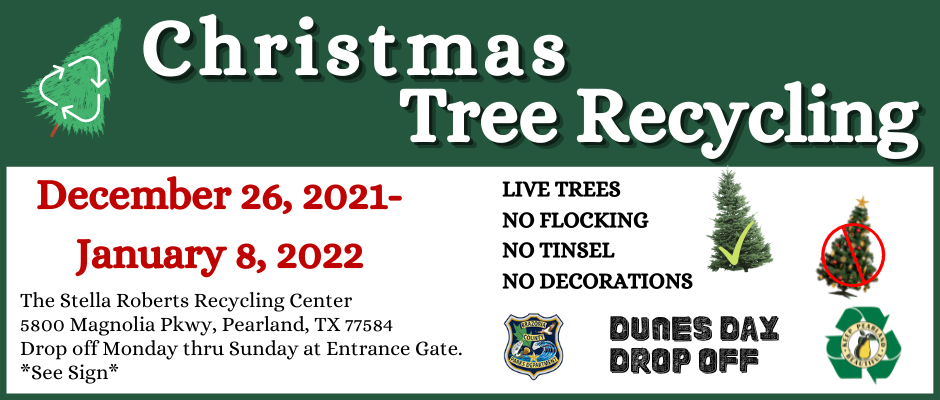 Before you buy a live Christmas tree this year think about how you want to dispose of it. The environmentally responsible thing is to keep the tree out of the landfill. But, in order to recycle your tree you must avoid flocking and tinsel of any type.

The Brazoria County Dunes Day Project: The trees are lined up in front of the dunes and staked to the ground. The Christmas trees essentially act like sand fencing. This slows down the wind and therefore the sand that would normally just blow right off the beach gets collected around these Christmas trees. Besides the initial benefit of not adding hundreds and thousands of Christmas trees to the landfills, the trees also add nutrients to the ground when they rot, which in turn helps dune grasses grow.
So, when you head out to find that perfect live Christmas tree for your house don't purchase a flocked tree and don't add flocking or tinsel to your Christmas tree at home. After Christmas remove your tree from the stand, remove all tinsel (if you added any), lights and ornaments and recycle your tree by one of these options.

Option one: The Stella Roberts Recycling Center

For those of you who want to help restore our "Brazoria County" sand dunes via the Dunes Day Project take your Christmas tree to the Stella Roberts Recycling Center, 5800 Magnolia Pkwy, Pearland, TX 77584. Trees can be unloaded into the trailer located at the entrance of the gate. Those dumping outside the gate when the center is closed can be fined up to $200. Trees will be accepted from December 26, 2021 to January 8, 2022. *No appointment needed for Christmas Tree Drop-Off
*REMINDER WE WILL BE CLOSED DEC. 24, 2021 – JAN 3, 2022, RE-OPEN JAN. 4, 2022 by appointments only, 9AM – 4PM* 

Other Options:
Trees (without decorations) may be dropped off at our headquarters office at 313 W. Mulberry in Angleton, or at any Brazoria County precinct office between December 26th, 2020 and January 10th, 2021.
-Brazoria County Parks HQ, 313 W. Mulberry St., Angleton, Texas
-Surfside Beach Main Entrance, across from Sharkies Bar & Grill
-Manvel Substation, 7313 Corporate Dr., Manvel, Texas
-Precinct 1 HQ, 1432 Highland Park Dr., Clute, Texas
-Precinct 2 HQ, 21017 CR 171. Angleton, Texas
-Precinct 3 HQ, 2467 FM 528, Alvin, Texas
-Resoft County Park, CR 281 and Hwy 35 Alvin, TX
-Precinct 4 HQ, 121 N. 10th St., West Columbia, Texas
For more information, contact the department's events coordinator, Mike Mullenweg, at 979-864-1152, or email him at mikem@brazoria-county.com.
Thank You for diverting your tree from the landfill!  If you have used an artificial Christmas tree and are looking to dispose of it, bring it to the Recycling Center.  Thanks for doing your part to help keep Pearland Beautiful and happy holidays!