We still have trees available! Limited, but you can reserve trees to be picked up starting January 25th, Tuesday thru Friday between 9am and 4pm or Saturday between 9am and 1pm. No Appointment Needed!  Thank You So Much for helping Keep Pearland Beautiful! 
Keep Pearland Beautiful will host Arbor Day on January 22, 2022, passing out two 3-5 gallon trees per household at the Stella Roberts Recycling Center (5800 Magnolia Pkwy).  At this event KPB will be giving away 2 trees, until supplies run out. 300 trees will be distributed, including: American Beautyberry, American Sycamore, American Elm, Pecan, Sugarberry and Waxmyrtle. Tree descriptions below or view 2022 Tree Guide pdf. Tree give-away will begin at 9:00am, 2 free trees per household w/ proof of residency, but donations are appreciated. 
KPB Members are able to reserve their trees for early pickup. Email will be sent with link to reserve 2 trees or call 281-489-2795 or email ltollefson@mykpb.org.
In addition to the historical significance of trees there are many environmental and modern day benefits.  Pearland is proud to be recognized as a "Tree City USA" community.  We benefit from our trees in multiple ways.  First, people are attracted to a community with beautiful landscaping that includes trees for shade. In city urban spaces and your own neighborhood, a thriving tree canopy is important to keeping temperatures down in the summer.  Trees provide shelter and food for our diverse bird population.  Planting trees around your home increases the energy efficiency of your air conditioner in the summer months.  And finally, everyone benefits psychologically from having green spaces with trees.
Help us create a thriving tree canopy by planting proper trees in the proper place at your residence or volunteer with Keep Pearland Beautiful.  For more information about choosing and planting trees visit www.arborday.org and refer to 'Right Tree, Right Place'.  To find out more information about how you can help Keep Pearland Beautiful, contact us at (281) 489-2795 or visit www.pearlandrecycles.com.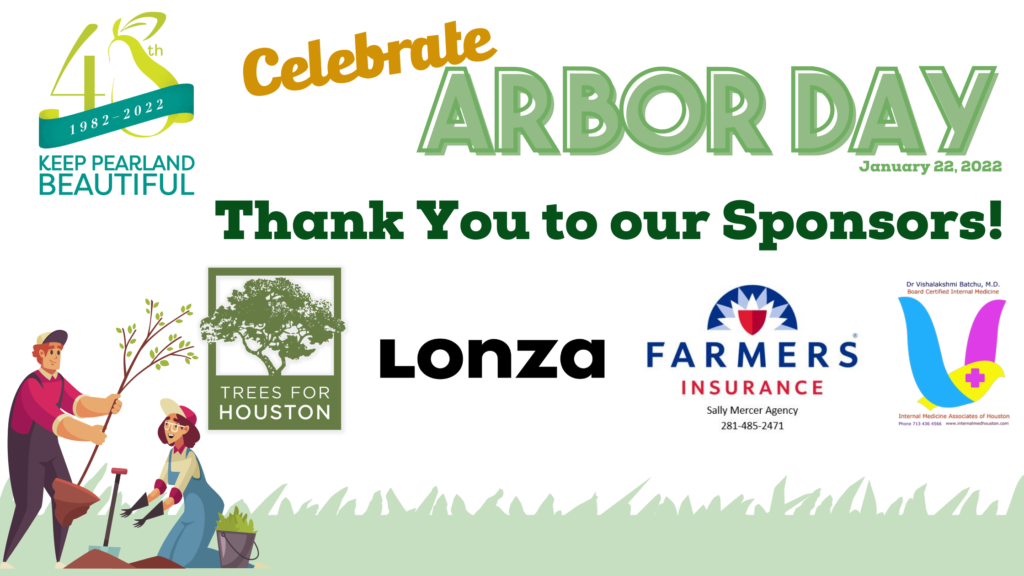 American Beautyberry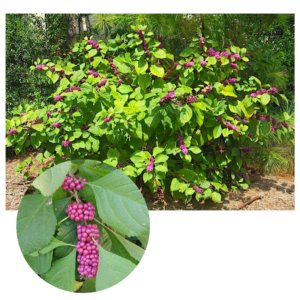 Secondary Name: French mulberry, sourbush, bunchberry, or purple beauty-berry
Leaf Type: Deciduous
Texas native: Yes
Firewise: Yes
Tree Description: Most often grows 3-5 ft. tall and usually just as wide, It can reach 9 ft. in height in favorable soil and moisture conditions. It has long, arching branches and yellow-green fall foliage, but its most striking feature is the clusters of glossy, iridescent-purple fruit (sometimes white) which hug the branches at leaf axils in the fall and winter.
Range/Site Description: This plant is distributed throughout the southeastern United States from Texas and Oklahoma east to Maryland. It also grows in the Caribbean and northern Mexico.
Leaf: Leaves in pairs or in threes, blades half as wide as long and up to 9 inches long, ovate to elliptic, pointed or blunt at the tip and tapered to the base; margins coarsely toothed except toward the base and near the tip, teeth pointed or rounded; lower surface of young leaves covered with branched hairs.
Flower: Flowers small, pink, in dense clusters at the bases of the leaves, clusters usually not exceeding the leaf petioles.
Fruit: Fruit distinctly colored, rose pink or lavender pink, berrylike, about 1/4 inch long and 3/16 inch wide, in showy clusters, persisting after the leaves have fallen.
Bark: Bark light brown on the older wood, reddish brown on younger wood. Bark smooth, with elongate, raised corky areas (lenticels); twigs round to 4 sided, covered with branched hairs visible under a l0x hand lens.
Interesting Facts: In the early 20th century, farmers would crush the leaves and place them under the harnesses of horses and mules to repel mosquitoes.
American Elm
American Sycamore
Pecan
Waxmyrtle
Sugarberry